releases
Pieces inspired by great classics of art and architecture
2 min reading
|
admineliane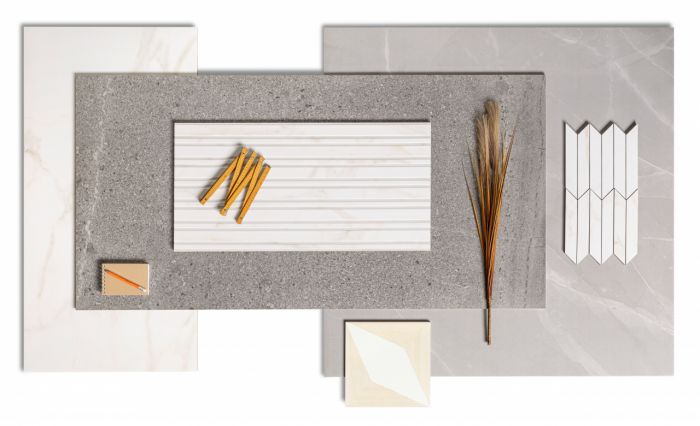 Ambient: Bernini Gold, Bolzano Gold, Trevi Oro, Canova Branco, Valenciano Gris and Dunas Gris, from Eliane. / Photo: Production: Deborah Apsan |. Photo: S.L.A. PhotoStudio
rescuing the art of eternalized periods of our history, the macro collection of Eliane in 2022, The light, consists of pieces inspired by great classics of art and architecture. Parts that preserve the charm of the past while they resurface with more technology, in addition to contributing to a complete pagination – floors, walls and porcelain – indoors and outdoors, with one harmonic palette, dialoguing with all products.
Porcelain, artistic mosaics and tiles bring the brand's color of the year, beauty and many novelties in ceramic tiles, in your details, what, consequently, embody textures, colors and prints in the projects where they are inserted. From design to finishes, the collection is ideal for lovers of art and homogeneous visuals for having similar surfaces, matching, inclusive, with other brand lines. a striking aesthetic, however, timeless.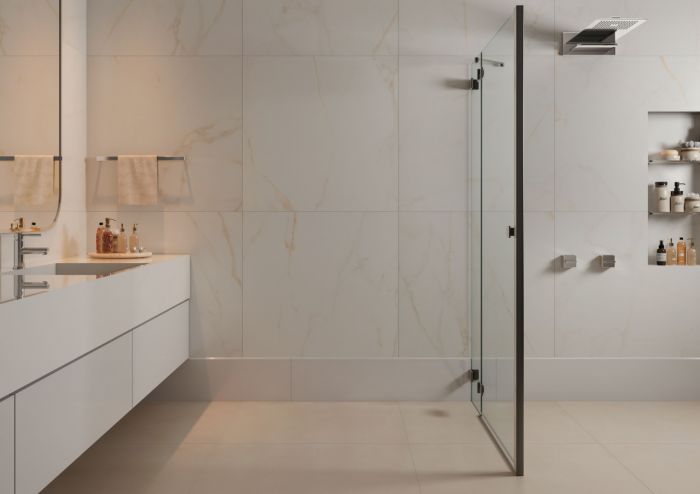 The porcelain Bernini Gold is a reinterpretation of the Italian Calacatta Gold marble
Bernini, one of the greatest Italian artists of Baroque art, inspires the porcelain of the same name. Bernini Gold presents a reinterpretation of Italian marble Calacatta Gold, crafted into the surface in a more delicate and smoother version. The piece features gray-gold veins, that can even present details tending to burnt orange.
Porcelain tile represents the concept of complete collection, leaving free pagination in different format options – 90x90cm and 60x120cm – in satin and polished finishes, that meet demands internal and external. A same aesthetic is also present in the 30x90cm, unique shape for the walls, ensuring visual unity and amplitude to the environments.
Or mosaic Navona Oro is inspired by one of the most iconic squares in Rome, that bears the same name
Navona, one of the most iconic squares in Rome, e Bolzano, a province of Italy where Calacatta Gold comes from, in its turn, are the references that guided the creative concept of the mosaics in the collection. Navona Oro and Bolzano Oro bring a combination of textures and materials inspired by art, in matte and glossy compositions. They are layers of effects over special geometries bringing a perfect balance between styles classic and modern. The mosaics in the collection have a 26.4 format×48,2cm (Navona Oro) e 24,6×45,4cm (Bolzano Gold) and dare in creative freedom: can cover floors and walls and perfectly shape curved surfaces such as columns, keeping the esthetic without changing the visual concept from the environment.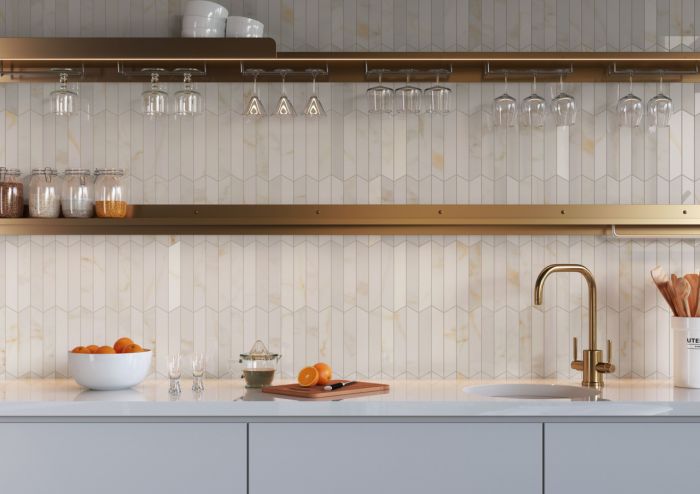 Or mosaic Bolzano Gold is inspired by the Italian province where Calacatta Gold comes from, marble that inspires Lumina collection
Watch the collection video The light – With marble launches 2022 –
Also watch the concept that inspired this collection:
ELIANE LAUNCHING CONCEPT 2022 –
Liked our content? Keep up with all the weekly news on our BLOG
Read too – LUMINA COLLECTION
Back