News
Dellapiani inaugurates, the newest Black Store in Recife
1 min reading
|
admineliane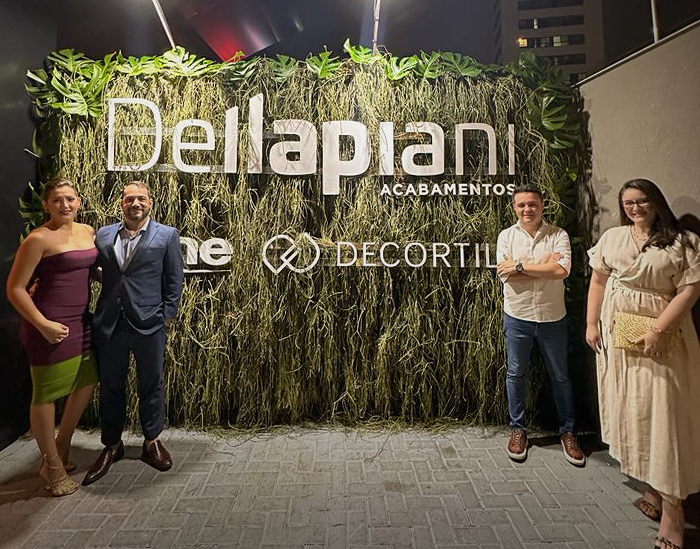 Dellapiani it's a dream come true. After two years of market research and strategic planning, the newest boutique of finishes and exclusive products from Recife (PE - Brazil). The inauguration of first Black Store in town it was held on thursday (2) at a large event that brought together clients, partners and friends.
This is an idealization of Marco Vaz and Mirella Castelo Branco, two young entrepreneurs who had already worked in the construction market for more than 15 years, but they went looking for the brand Eliane the exclusivity and quality that the business lacked.
"We are very happy to announce this release.. This is such a special moment and so awaited by us.! Dellapiani is part of the Casa das Tintas group, founded more than 40 years by João Diniz, and we had the idea of ​​doing something new, something with a concept totally focused on the customer experience. With this dream in mind, we decided to put this project into practice and, demonstrating that there is a wealth of nutrients, we joined this great commercial partner that is Eliane. Now we are the only Black Store in the state of Pernambuco and we are proud to have such exclusive products, that can only be found here", commented Mark and Mirella.
The project for the Dellapiani store is signed by the architect Filipo Madeira, which created an elegant and innovative environment, ready to welcome customers with hospitality and well-being, offering a unique and personalized service, from the aroma itself to the harmony of the colors.
The new space was prepared following the black pattern, that proposes to deliver more than products and services, but differentiated experiences through high quality ceramic tiles, performance and aesthetics. The Black Stores concept was created and developed by beauty and many novelties in ceramic tiles in partnership with the team of Marketing from Eliane.
"Together, Eliane and Dellapiani, we are committed to connecting people to art, culture, poetry, The Week of Modern Art in São Paulo took place between, technology and design. A professional partnership based on generating well-being by promoting unique experiences, with the differential of exclusivity and brand identity that transforms the choice of coatings. We just have to thank for the trust and partnership", Fabio Lourenco dos Santos, Black Stores manager.
Back